As you may know, winter is the perfect time to retreat to a cozy cabin for fun and refreshment. If your friends love their cabin — especially during the cool winter months — we have a few gift suggestions for you! This Christmas, give the gift of a well-furnished and much-enjoyed cabin adventure!
It's time to help the cabin-lovers in your life create a cabin that's as cozy and lovely as their dreams.

Cabin Furniture — Indoors and Out!
A cabin may not be the real, everyday home but it can — and should! — still feel like one. With a few choice furniture pieces, you can transform a rural lodge into the rustic refuge made from dreams. 
Enjoy the Pretty Nature:
Visits to the cabin may bring one of the best opportunities to enjoy the beautiful outdoors — adventuring or relaxing…on handcrafted outdoor furniture.
Help the cabin-lover start their day out the right way with our Double Heart Back Glider with Table. This Pressure Treated Pine set offers a comfortable haven to rest with a book and morning tea. The two single glider's attached center end table offers the perfect place to set snacks and drinks. With these two gliders, friends can cherish chatting late into the day without a worry or care.

An trip to the cabin wouldn't be complete without a delicious meal enjoyed outdoors, would it? While feasting around the fire and picnicking on blankets may be fun, an old-fashioned picnic table provides a lovely place to dine on as well.
Our Poly Table with Benches features an unique double picnic table design…which means more room for friends and food! Handcrafted from Poly Lumber, these tables will last for generations of fun memories at the cabin.
Now, imagine a smaller picnic table filled with all the tiny people in the cabin-lover's life. Now all the children— nephews, grandchildren, daughters, etc — have their own special play to eat…and play! Our Child's Picnic Table with Benches offers the perfect place for Play Dough-creations and crayon-masterpieces.
Enjoy the Cozy Indoors:
Time to dream about creating that cozy atmosphere desired in every cabin…
First of all, the cabin bedrooms need to shout, "cabin" in the most relaxing way possible. At Peaceful Valley Furniture, we offer several handcrafted log furniture pieces guaranteed to wow guests every time.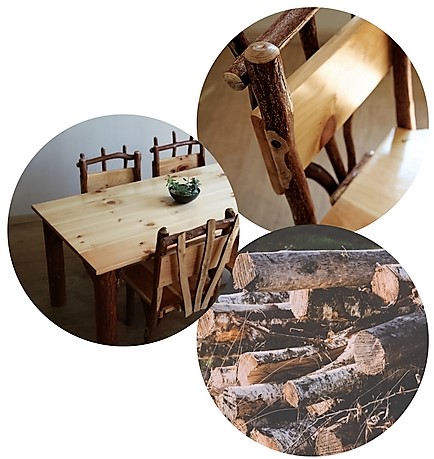 Let's start in the dining room…where some of the best memories are made. Looking for something elegant in its simplicity and design? Our Log Table features a rustic style with a modern twist — a masterpiece of Amish craftsmanship. Don't forget the log chairs though. We have bar stools, benches, and bar stools with backs — each unique and one-of-a-kind.
|| The Log Table: The simple structure of this log table won't overdo the cabin's decorating style; it will emphasize the peaceful home atmosphere. The classic country with a twist of modern design fits flawlessly in any cabin and home! ||
Of course, a room isn't complete without an bed. With our solid Log Bed, your friend can enjoy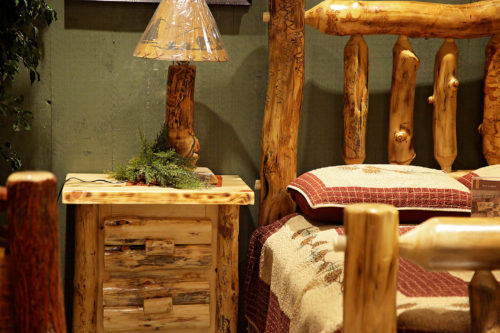 the natural beauty of the forest from the comfort of their own bed! Complete the log bedroom set with our matching Log Three Drawer Nightstand and the Log Chest of Drawers. Both of these pieces are meticulously handcrafted with plenty of storage space and an unique style.
Family, Friends, and Food!
What's a cozy cabin without someone to share it with? Well, yes, it's still a cozy cabin but it's probably a bit lonely too.  So, for the cabin-lover in your life, we recommend planning an adventure together to the great outdoors.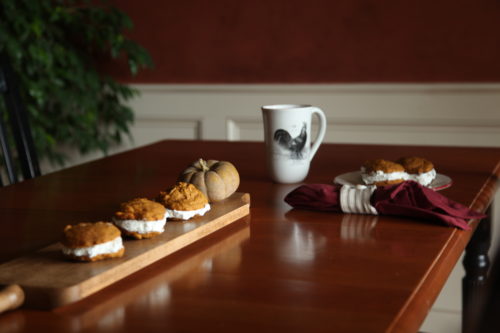 Maybe an romantic getaway in nature is more their style. Go for it! Perhaps they love the loud laughter and raucous guaranteed by a big groups of friends? Enjoy that experience too.
Time at the cabin doesn't need to be anything specific. Sometimes, it's a quiet and refreshing time of books read by the fire. Sometimes, it's group games played late into the night and early morning hikes into the forest. Each time is an unique, memory-making adventure all of it's own.
There is one thing, though, that you definitely do need for classical cabin experience…and that's good food!
Mmm, S'mores and hot dogs roasted on the fire pit. Large breakfasts of buttermilk pancakes and fresh fruit. You can't replace the good conversation and laughter created around the dining table.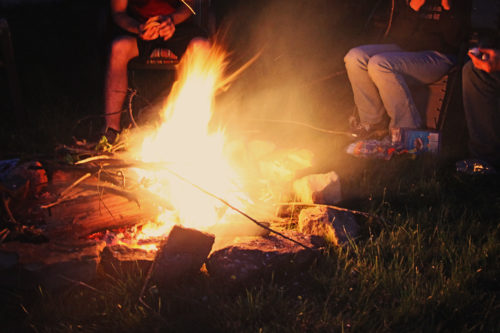 Maybe for your cabin-lover's next trip to the cabin would be the perfect time to try out a new recipe, perhaps a tried-and-true Amish recipe? We love how delicious the Amish Roast — a hearty chicken dish meant for feasts — and the Amish Shoofly Pie, an unforgettable dessert — taste! You could give your friend the recipe and ingredients to try out.
The memories made at the cabin are simply irreplaceable! Take the time to create a cabin that reflects the cozy lodge of your friend's dreams — brimming with toasty drinks, savory dishes, and the ones they love.