We're just a few days into autumn and already completely in love with this beautiful season. The cool temperatures dip lower as the sun sets, and we find ourselves drenched in the loveliness of this time — pumpkin spiced drinks, warm homes decorated with fall-inspired designs, knitted wool scarves, and colorful, falling leaves.
It's sounds like the perfect time to celebrate the season with a special dessert…Whoopie Pies are not only a delicious, sweetly layered dessert but they're also a favorite, Lancaster County tradition here at our home!

We want to inspire you to give the traditional pumpkin pie this flavorful makeover with an fall-inspired, Lancaster-County favorite: Pumpkin Whoopie Pies!
So, what's the story behind the whoopie pies?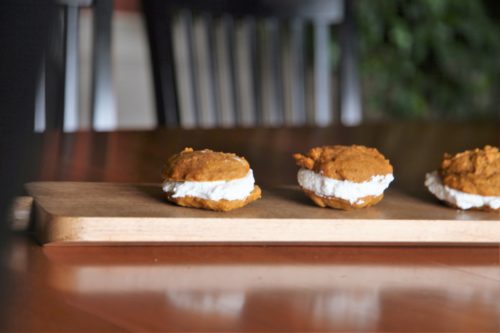 The story goes that long ago Amish women created a tasty use of their leftover cake batter, shaping two little cakes with sweet icing in between. Upon seeing the treat in a lunch pail or for dessert, men and children would exclaim, "Whoopie!" thus giving the dessert its unique name.
Of course, we would like to claim whoopie pies originated from Lancaster County but there has been some controversy regarding its birth place. According to several sources, Maine made the first whoopie pie while others claim Lancaster as it's true home. But what we do know, however, holds much truth: they taste delicious! Around here, they're a beloved treat that you can find almost anywhere — from roadside stands to local markets to the Amish dinner table.
Ingredients:

4 cups of pumpkin
4 eggs
4 cups of brown sugar
2 cups of vegetable oil
2 tsp. vanilla
2 tsp. cloves
2 tsp. ginger
3 1/2 tsp. cinnamon
2 tsp. salt
2 tsp. baking powder
2 tsp. baking soda
6 cups of flour
Filling/icing
Let's get baking some Whoopie Pies!
Step 1:
First, mix together the pumpkin, eggs, brown sugar, oil, and vanilla until the batter is smooth and creamy.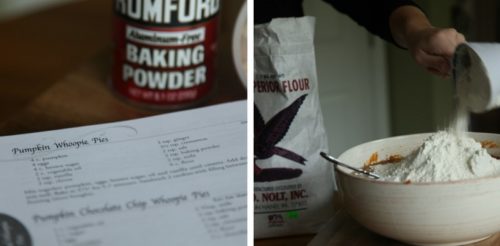 Step 2:
Add dry ingredients to the mixture and stir well, blending completely.
This first two steps are fairly easy, right? It only gets better! You're half way to feasting on these delicious treats.
Step 3: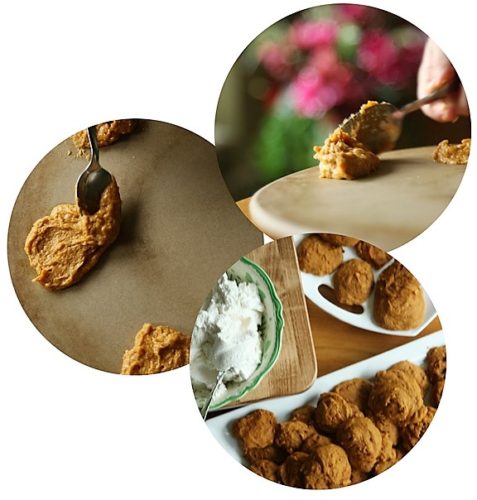 Scoop the dough onto a pan with a large spoon. Try to keep the little pies circular and even, measuring about 3 inches round and a half inch thick.
Don't worry if they look a little small and flat initially. They will rise within the oven nicely!
Step 4:
Bake at 375◦F for 5-7 minutes.
Depending on the length and thickness of your whoopie pies, they may need to be in the oven longer than originally called for. Test the whoopie pies with a fork or toothpick; if there's still gooey batter on it, put them in the oven for more cooking.
Step 5:
After the whoopie pies have cooled down from the oven, spread the filling evenly over the surface of one of the whoopie pies, about an inch thick.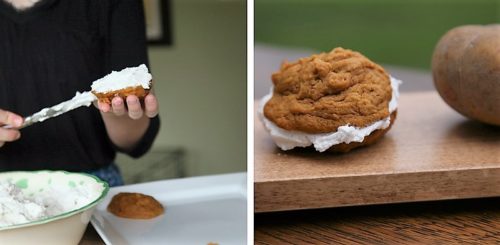 To save time, we bought the filling — or icing — from a local store. You are welcome, however, to try out your hand at making your own!
Add the second half, and there you go…You have officially made one of Lancaster County's favorite treats!
Like the Amish women often do, you can pack these sweets in your children's lunch boxes or give as a treat to a special someone. Just be prepared for the squeals of joy and pleads for more. Pumpkin Whoopie Pies are a delicious, fall tradition you just can't go wrong with!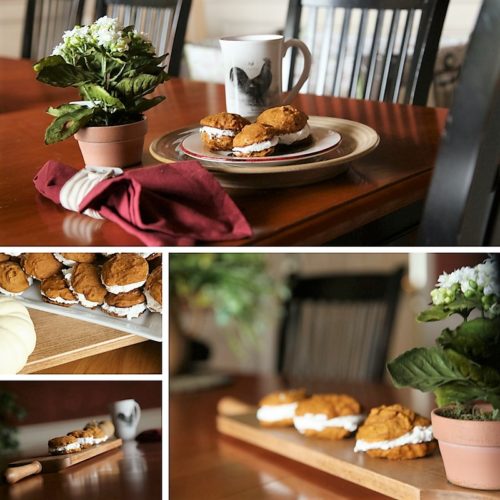 Information used by permission: Recipe from Weavertown School Kitchen Collections, available at our Intercourse and Strasburg Stores. Whoopie Pie history information gathered from What's Cooking America and Discover Lancaster.